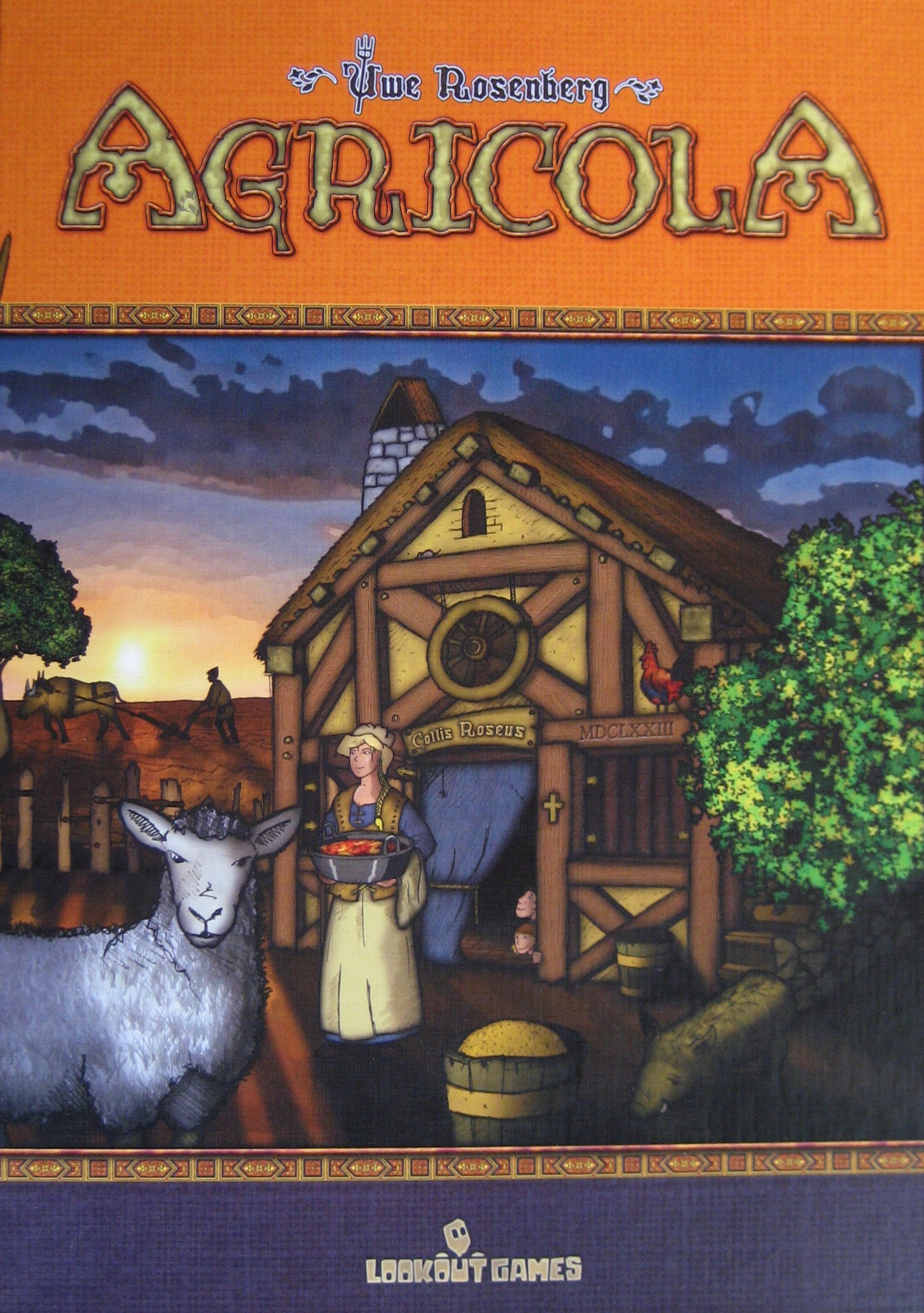 In Agricola i giocatori vestono i panni di famiglie di contadini che amministrano la propria fattoria e le attività connesse. Ci si deve principalmente preoccupare di sfamare la famiglia in qualche modo, occupandosi nel frattempo di arare e seminare i campi, costruire recinti per il bestiame, espandere la casa per fare spazio ai nuovi nati, eccetera…
Pur essendo un gestionale "tedesco", il gioco è profondamente ambientato. Le azioni che i giocatori compiono non sono "spostare un cubetto potere" o "pagare due soldi per pescare una carta", bensì "seminare il grano", "cuocere il pane" e via dicendo; inoltre non si tratta quasi mai con il concetto di punti-vittoria prima della fine della partita. Lo stesso sistema di punteggio è semplice ma efficiente: siccome praticamente ogni cosa che si fa dà punti, è garantita una grande varietà di strade diverse verso la vittoria, sempre considerato che – alla fine – sarà meglio aver fatto almeno un po' di tutto.
Designer
Uwe Rosenberg
Artist
Klemens Franz
Publisher
Lookout Games, 999 Games, Brain Games, Compaya.hu - Gamer Café Kft., Devir, Filosofia Éditions, Funforge, Hobby Japan, Hobby World, HomoLudicus, Korea Boardgames co., Ltd., Lacerta, MINDOK, Smart Ltd, Stratelibri, Swan Panasia Co., Ltd., Ystari Games, Z-Man Games, Inc.
Year Published
2007
# of Players
1 - 5
User Suggested # of Players
Best with 5+ players
Recommended with 1, 2, 3, 4, 5 players
(1762 voters)
Playing Time
150
Mfg Suggested Ages
12 and up
User Suggested Ages
12 and up
(536 voters)
Language Dependence
Extensive use of text - massive conversion needed to be playable
(671 voters)
Category
Animals, Economic, Farming
Mechanic
Action Drafting, Automatic Resource Growth, Card Drafting, Enclosure, Hand Management, Increase Value of Unchosen Resources, Solo / Solitaire Game, Turn Order: Claim Action, Variable Player Powers, Worker Placement
Expansion
Agricola CZ-Deck, Agricola Ereigniskarten, Agricola X-Deck, Agricola Z-Deck, Agricola: Agricola in Newdale, Agricola: Animal trainer, Agricola: Belgium Deck, Agricola: Bielefeld Deck, Agricola: Brakelhühner Promo Card, Agricola: Changelings, Agricola: Clay deposit, Agricola: De Lage Landen, Agricola: Farmers of the Moor, Agricola: Feed pellets, Agricola: France Deck, Agricola: Gamers' Deck, Agricola: Glon­na­cker, Agricola: Guildmaster, Agricola: L-Deck, Agricola: NL-Deck, Agricola: Ö-Deck, Agricola: Pelts, Agricola: Pi-Deck, Agricola: Rancher, Agricola: Rozšíření, Agricola: The Goodies Expansion, Agricola: The Legen*dairy Forest-Deck, Agricola: Through the Seasons, Agricola: Times they are a-changing, Agricola: World Championship Deck – 2011, Improved Farming & Disasters (fan expansion for Agricola), The MY Deck (fan expansion for Agricola)
Family
Agricola, Animals: Cattle, Animals: Horses, Animals: Pigs, Animals: Sheep, Harvest Series, Solitaire Games, Tableau Building
Primary Name
Agricola
Alternate Names
Агрикола, アグリコラ, 农场主, 農家樂, 아그리콜라
Infos courtesy of boardgamegeek.com. More Infos.