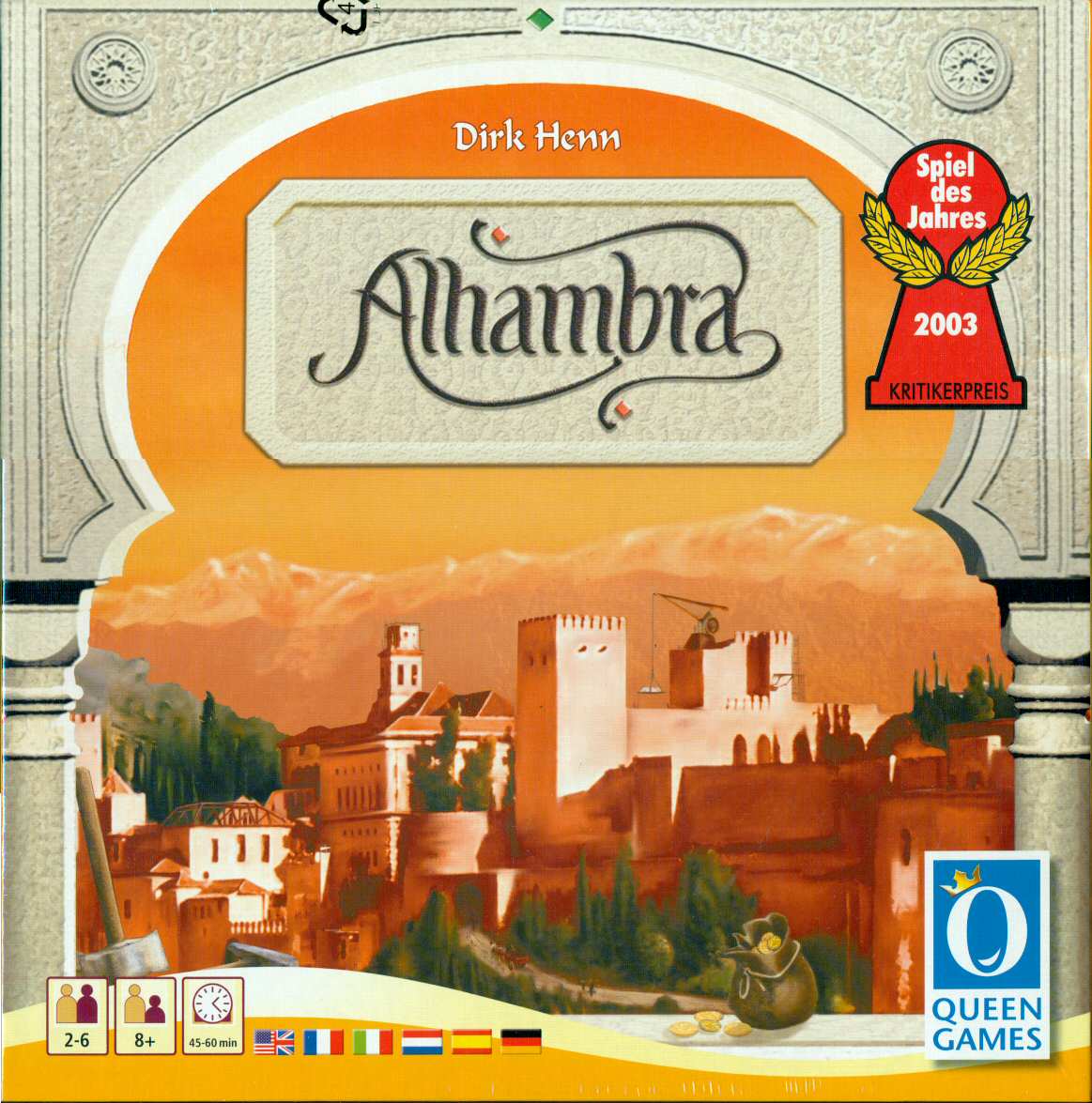 Vincitore del "Gioco dell'Anno" 2003, il che di solito è una garanzia quanto meno per l'ambito leggero, Alhambra è veramente un gioco interessante. Personalmente devo dire che la Queen Games mi ha raramente deluso sia per meccaniche che per elementi innovativi. Il gioco è una sorta di incrocio tra un tipico tedesco (scelte multiple) e una scacchiera. Lo scopo dei partecipanti è quello di costruirsi il palazzo più bello partendo da una fontana e collegando varie tessere di diversa tipologia (ce ne sono 6 diverse) a creare un unico giardino con mille meraviglie e circondato da mura.
Tratto da: https://www.goblins.net/recensioni/alhambra
Copyright © La Tana dei Goblin
Designer
Dirk Henn
Artist
Jörg Asselborn, Jo Hartwig, Patricia Limberger, Christof Tisch
Publisher
Queen Games, Asterion Press, Corfix, Devir, Flick Game Studio, G3, KADABRA, Kaissa Chess & Games, Korea Boardgames co., Ltd., Piatnik, Rebel Sp. z o.o., Tilsit
Year Published
2003
# of Players
2 - 6
User Suggested # of Players
Best with 6+ players
Recommended with 2, 3, 4 players
(627 voters)
Playing Time
60
Mfg Suggested Ages
8 and up
User Suggested Ages
8 and up
(126 voters)
Language Dependence
No necessary in-game text
(139 voters)
Category
Arabian, City Building, Medieval
Mechanic
Card Drafting, Hand Management, Set Collection, Tile Placement
Expansion
Alhambra: Designers' Expansion – Alhambra Zoo / Buildings of Power / Travelling Craftsmen, Alhambra: Designers' Expansion – Bathhouses / Wishing Well / Palace Designers, Alhambra: Designers' Expansion – Extensions / The New Building Ground, Alhambra: Designers' Expansion – Handymen / Gates Without End / Fresh Color, Alhambra: Designers' Expansion – Orchard / Major Construction Projects, Alhambra: Designers' Expansion – Palace Staff, Alhambra: Designers' Expansion – The Personal Building Markets / Caliph's Guidlines / Treasures, Alhambra: Designers' Expansions Box, Alhambra: New Market, Alhambra: Power of the Sultan, Alhambra: Queenie 1 – The Magical Buildings, Alhambra: Queenie 2 – Medina, Alhambra: The City Gates, Alhambra: The Falconers, Alhambra: The Thief's Turn, Alhambra: The Treasure Chamber, Alhambra: The Vizier's Favor
Family
Cities: Granada (Andalusia, Spain), Country: Spain, Crowdfunding: Kickstarter, Game: Alhambra
Primary Name
Alhambra
Alternate Names
Alhambra: 15th Anniversary Revised Edition, Alhambra: Designers' Edition, Münster, The Palace of Alhambra, Der Palast von Alhambra, Troisdorf: Der Palast von Alhambra Sonderedition, Αλάμπρα, アルハンブラ, 알함브라, 알함브라
Infos courtesy of boardgamegeek.com. More Infos.