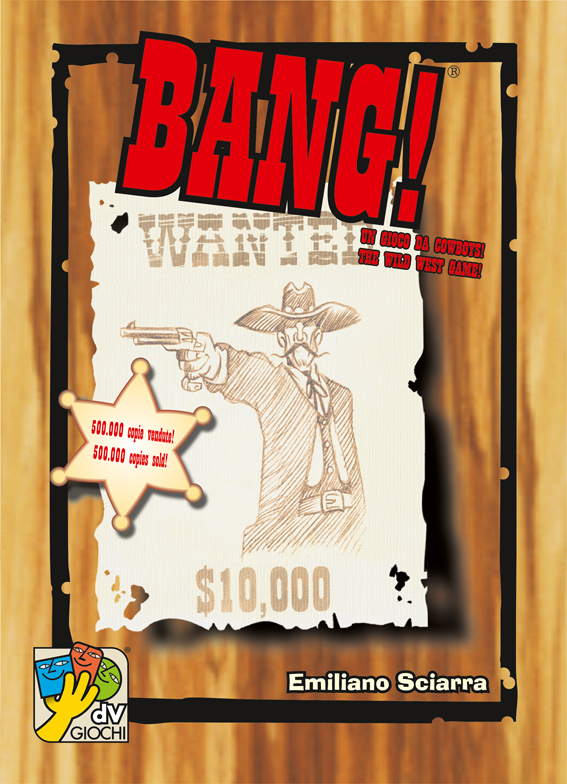 Un sapiente incrocio tra l'"Uomo Nero" e "Family Business" (od un qualunque altro gioco ad eliminazione). Nel più classico degli scenari Western, lo sceriffo ed i suoi aiutanti affrontano una banda di fuorilegge, ma non solo: c'è anche un rinnegato nella partita pronto a colpire lo sceriffo alle spalle per prenderne il posto. I vari ruoli hanno condizioni di vittoria diverse: lo sceriffo deve eliminare tutti i fuorilegge ed il rinnegato, di contro i fuorilegge devono eliminare lo sceriffo ed i suoi aiutanti, gli aiutanti devono evitare che lo sceriffo muoia (possono anche immolarsi alla causa) ed il rinnegato, infine, deve restare come ultimo sopravvissuto della sparatoria.
Designer
Emiliano Sciarra
Artist
Alessandro Pierangelini
Publisher
dV Giochi, ABACUSSPIELE, Albi, Asmodee, Bard Centrum Gier, Crómola, Edge Entertainment, Gém Klub Kft., Grow Jogos e Brinquedos, Hobby World, Kaissa Chess & Games, Korea Boardgames co., Ltd., Land of Beautiful Mind (سرزمین ذهن زیبا), Lautapelit.fi, Ludicus, Mayfair Games, NeoTroy Games, PS-Games, Swan Panasia Co., Ltd., Tilsit
Year Published
2002
# of Players
4 - 7
User Suggested # of Players
Best with 7+ players
Recommended with 5, 6, 7 players
(456 voters)
Playing Time
40
Mfg Suggested Ages
10 and up
User Suggested Ages
10 and up
(115 voters)
Language Dependence
Some necessary text - easily memorized or small crib sheet
(121 voters)
Category
American West, Bluffing, Card Game, Deduction, Fighting
Mechanic
Hand Management, Hidden Roles, Kill Steal, Player Elimination, Take That, Team-Based Game, Variable Player Powers
Expansion
BANG! A Fistful of Cards, BANG! Armed & Dangerous, BANG! Bloody Mary, BANG! Claus "The Saint", BANG! Dodge City, BANG! Dodge City with High Noon expansion, BANG! Expansion Pack, BANG! Face Off, BANG! Gold Rush, BANG! High Noon, BANG! High Noon/A Fistful of Cards, BANG! Johnny Kisch, BANG! The Valley of Shadows, BANG! Uncle Will, BANG! Wild West Show, Death Mesa (fan expansion for BANG!), O.K. Corral (fan expansion for BANG!)
Family
Game: BANG!
Primary Name
BANG!
Alternate Names
¡BANG!, Bang! Duelul Vestului Sălbatic, BANG! A vadnyugat játéka!, Wanted!, Wanted: Dead or Alive, Бэнг!, 砰!, 碰!, 뱅!
Infos courtesy of boardgamegeek.com. More Infos.