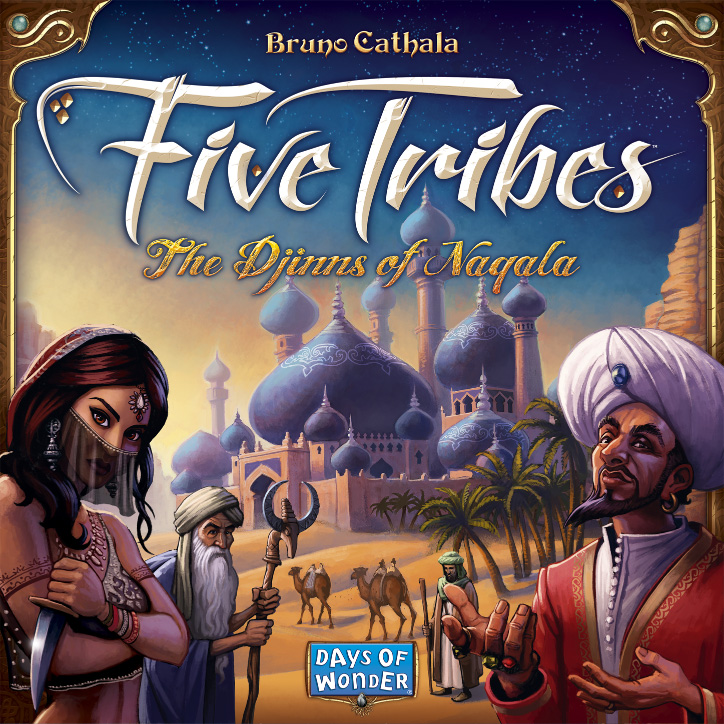 Five Tribes è un gioco nato dalla mente di Bruno Cathala (già autore di, per citarne alcuni, Mr. Jack, Senji, Cyclades e Abyss) dove concorreremo, con l'ausilio delle cinque tribù: consiglieri, saggi, costruttori, mercanti e assassini, al controllo del Sultanato di Nagala recentemente rimasto privo del suo Sultano.
Il gioco, che basa tutta la sua dinamica sul meccanismo del mancala, cioè una sistema nel quale se io ho X palline in una scodella mi muoverò nelle scodelle successive lasciando una pallina in ognuna di esse, è uno strategico di media durata che, a dispetto di un regolamento semplice e lineare, propone una sfida tutt'altro che banale.
Designer
Bruno Cathala
Artist
Clément Masson
Publisher
Days of Wonder, Asterion Press, Galápagos Jogos, Gém Klub Kft., Korea Boardgames Co., Ltd., Maldito Games, Rebel Sp. z o.o.
Year Published
2014
# of Players
2 - 4
User Suggested # of Players
Best with 4+ players
Recommended with 2, 3, 4 players
(667 voters)
Playing Time
80
Mfg Suggested Ages
13 and up
User Suggested Ages
12 and up
(101 voters)
Language Dependence
No necessary in-game text
(83 voters)
Category
Animals, Arabian, Fantasy, Mythology
Mechanic
Auction/Bidding, Constrained Bidding, End Game Bonuses, Hidden Victory Points, Mancala, Modular Board, Set Collection, Square Grid, Turn Order: Auction, Variable Player Powers, Variable Set-up, Victory Points as a Resource
Expansion
Five Tribes: Dhenim, Five Tribes: Galbells, Five Tribes: The Artisans of Naqala, Five Tribes: The Thieves of Naqala, Five Tribes: Whims of the Sultan, Five Tribes: Wilwit
Family
Animals: Camels, Components: Meeples (Animal) / Animeeples, Game: Five Tribes, Mythology: Arabian, Region: Middle East
Primary Name
Five Tribes
Alternate Names
Five Tribes: Die Dschinn von Naqala, Five Tribes: I Geni di Naqala, Five Tribes: Les Djinns de Naqala, Five Tribes: Naquala dzsinnjei, Five Tribes: Os Gênios de Naqala, Five Tribes: The Djinns of Naqala, Pięć Klanów: Dżiny Naqali, 五大部落, 다섯 부족
Infos courtesy of boardgamegeek.com. More Infos.