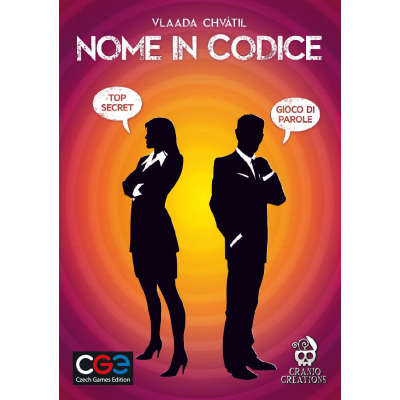 Che Vlaada Chvàtil fosse un vecchio volpone, in grado di confrontarsi con diversissimi generi di giochi da tavolo, lo sapevamo. Però il suo eclettismo sorprende sempre. Come questa volta, in cui tira fuori dal cilindro un gioco che è una rielaborazione di Taboo, ma che si rivela irresistibile, con una partita che tira l'altra.
Partygame per 2-8 giocatori (ma anche se siete in 10 va bene lo stesso), 15 minuti di durata, adatto a tutti, è stato localizzato in italiano da Cranio Creations ed è questa la versione che consiglio, dato che il gioco si basa tutto sulle parole che dovrete leggere e dire.
Tratto da: https://www.goblins.net/recensioni/nome-codice
Copyright © La Tana dei Goblin
Designer
Vlaada Chvátil
Artist
Stéphane Gantiez, Tomáš Kučerovský, Filip Murmak
Publisher
Czech Games Edition, Bergsala Enigma, Boardgame Space, Brain Games, Broadway Toys LTD, Cranio Creations, Cuaca Cerah Games, Devir, DiceTree Games, Fantasmagoria, Feelindigo, GaGa Games, Gém Klub Kft., Golden Egg Games, Heidelberger Spieleverlag, Hobby Japan, IELLO, Kaissa Chess & Games, Land of Beautiful Mind (سرزمین ذهن زیبا), Lex Games, MINDOK, More Fun Co., Ltd., Nordic Games GmbH, One Moment Games, Ponva d.o.o., Pridemage Games, Rebel Sp. z o.o., TWOPLUS Games, White Goblin Games
Year Published
2015
# of Players
2 - 8
User Suggested # of Players
Best with 8+ players
Recommended with 4, 5, 6, 7, 8, 8+ players
(897 voters)
Playing Time
15
Mfg Suggested Ages
14 and up
User Suggested Ages
10 and up
(190 voters)
Language Dependence
Unplayable in another language
(131 voters)
Category
Card Game, Deduction, Party Game, Spies/Secret Agents, Word Game
Mechanic
Communication Limits, Memory, Push Your Luck, Team-Based Game
Expansion
Brettspiel Adventskalender 2018, Codenames: Authors & Games, Codenames: Bonus Pack – Board Gaming (English), Codenames: Bonus Pack – Board Gaming (German), Codenames: Bonus Pack – CGE Games, Codenames: Bonus Pack – Literatur, Codenames: Bonus Pack – Through the Ages, Codenames: Bonus Pack – Weihnachten, Codenames: Bonuskaarten 2016, Codenames: Bonuskaarten 2018, Codenames: Cartes promo – Personnalités, Codenames: Cartes promo – Univers Geek, Código secreto: Expansión promocional Andalucía, Deutscher Spielepreis 2016 Goodie Box, Fedőnevek: Magyar bónusz csomag, Nome in Codice: Carte Bonus da Torneo, Tajniacy: Fantastyczne Światy, Tajniacy: Nowi Agenci, Tajniacy: Obcy Agenci, Tajniacy: Sami Nieswoi
Family
Game: Codenames, Word Games: Guess the Word
Primary Name
Codenames
Alternate Names
Codenames Afrikaans, Codenames Arabic: رسائل سرية, Codenames Edisi Indonesia, Codenames XXL, Codi secret, Código secreto, Codinomes, Fedőnevek, Krycí jména, Krycie mená, Nome in Codice, Nume de Cod, Tajniacy, Κωδική Ονομασία, Кодові імена: гра слів, Кодови имена, Кодовые Имена, שם-קוד, الأسماء الحركية, コードネーム, 機密代號, 機密代號: 廣東話版, 行动代号, 코드네임
Infos courtesy of boardgamegeek.com. More Infos.